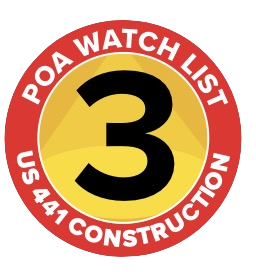 At the December POA General Membership meeting, officials from the Florida Department of Transportation provided an update on the US 441 construction that has already frustrated motorists for two years and claimed the life of a construction worker. Two other serious accidents have occurred in the construction zone, including two teens who were killed.
Phillip Maggio, the project manager, described the progress on the 4.157-mile, $45.3 million road improvement that began in July 2000. He said they are on track to complete and re-open the entire roadway in early 2024.
Major components of the project include adding a third through lane in each direction and removing the bridge. They have had to reroute traffic to the middle of the roadway while the outer lanes are constructed. The next step is to excavate and remove the slope of the bridge and bring it back to a level roadway. Mr. Maggio explained that the bridge had reached its life cycle and either had to be reconstructed or removed. Removal was the most cost-effective option.
He also said that everything they have done has been with safety in mind for motorists and construction workers. For example, Mr. Maggio said that the Crossroads/Old Vineyard intersection had to be closed because there were so many incidents that the Lady Lake police could not even keep up with them. The goal to reopen that intersection is the end of February, giving it time to recover from the traffic shift.