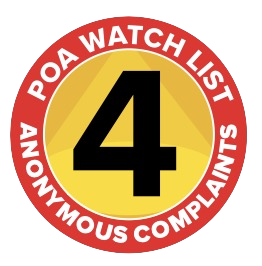 One thing about living in The Villages that residents cannot seem to agree upon is how deed compliance issues should be handled. What is deed compliance, anyway?
When a person buys a home in The Villages, among the many documents that are signed is the Declaration of Restrictions for that particular home. It is an agreement between the homeowner and the Developer of The Villages to abide by certain rules that govern any changes that are made to the exterior of the home. There are also interior restrictions, such as age limitations, number of animals, etc., that are "handled" by the Developer's representative. Outside restrictions are under the purview of the Architectural Review Committee (ARC) and the Community Standards office.
Concerns about possible deed restriction violations may be provided to the Community Standards Deed Compliance Division by phone, fax, mail, electronic mail, or in person. They may be made anonymously, except in CDD 5. The Community Standards Deed Compliance Division is entirely complaint driven.
Herein lies the disagreement. As a complaint-driven system, a deed restriction violation that is reported for one home is not applied to any other home with the same violation unless a complaint is made regarding that home too. The other area of disagreement is whether complaints should be allowed to be made anonymously or if a name should be given. Villagers seem to be almost evenly split on that issue.
Community Development District (CDD) 5 changed its rules and only allows named complaints to be made. After approximately 2 years, the Supervisors for CDD 5 are satisfied that the rule change has not diminished the aesthetic quality of their neighborhoods, nor has it substantially reduced the number of violations reported.
Villagers seem to mostly agree that people referred to as "trolls" should not be allowed to report violations. Trolls are identified as people who canvas neighborhoods, whether or not they live in them, looking for and reporting multiple violations anonymously. Most Villagers think they should mind their own business.
CDD 8 has been in litigation with a resident for several years regarding the non-removal of a white cross from the yard. Villagers will notice dozens of other white crosses across The Villages that have not been turned in, so they have not been addressed. Some believe it becomes a question of fairness.
CDD 11 recently elected to take over the Deed Compliance process from the Developer. Others have taken steps to limit the number of complaints allowed by one person. CDD 2 is considering doing away with anonymous complaints, while CDD 10 said it doesn't see the need to make any changes.
A continuing problem that concerns residents and supervisors alike is the growing number of abandoned and/or foreclosed properties that have become a neighborhood eyesore. Collecting fines is problematic because ownership often ends up in limbo with no responsible party that can be identified. The District has recently added power washing and trimming bushes to grass
cutting to help keep properties from declining too significantly. However, there are costs associated with this maintenance, and again, the money is hard to collect. The District's attorneys
are working on a solution that could put a lien on these properties that would show up in title search when/if the property is sold.
And what about people who purchase an existing home and later someone reports a deed violation? The new homeowner is obligated to fix the violation – sometimes at the cost of thousands of dollars – or face fines. This also seems to be a question of fairness. It is a good idea to call the Community Standards office to ask if there are any outstanding violations or fines that have not been resolved. If you suspect something on the exterior has been modified, ask if it went through ARC for approval before you purchase.
Fair or not, these rules apply to everyone who owns a home in The Villages, so it behooves every homeowner to download their deed restrictions from the District's website, DistrictGov.org.
Click on 'Departments' at the top and select 'Community Standards.' Scroll down the left column until you come to 'Download Your Declaration of Restrictions,' select and follow the instructions.
If you plan to do anything to the exterior of your home, review your restrictions and then call the
Community Standards office at 352-751-3912 to make sure you file the appropriate application
with the Architectural Review Committee (ARC) for approval.
---
UPDATES
---
 Officials unanimously vote to stop accepting anonymous complaints.  Article in Villages-News.com April 14, 2023
---