PART 2

POA BULLETIN 2012 ARTICLES
---

A CASE FOR GOLF CART SEATBELTS
Feb., 2012 Bulletin

Golf Carts Can Kill
If we were to ask you if you thought any-one had died from involvement in a golf cart accident in The Villages, what would you guess? (You would have to guess because this information is not recorded by Public Safety or Community Watch, nor is it likely to be published in The Villages media.) At the May, 2011, AAC meeting, Chairman Bell advised, "I will make a statement that was made to me, "we have had ten people die in golf cart accidents in the last five years?." That being said, if we were to ask how many of these fatalities were related to speeding, what would you guess? The answer provided by this same source was "…none of them were related to speeding." All of them were related to drivers hitting the curbing and flipping, hitting abutments, turning too fast, passengers falling out of the golf cart, collisions with another golf cart or vehicle, etc." 
At a recent POA meeting, Captain Gail Lazenby confirmed that there have been a least 10 fatalities in The Villages related to golf carts in the last four years.
(P.S. as of November 2012 there have now been at least 12 fatalities in the last five years.)
There is an active resident Work Group studying safety issues surrounding golf cart usage, but they can only deal with innuendos - no data appears to be available. The POA has been in contact with Sheriff's Departments in all three counties as well as the Chief of the Town of Lady Lake Police Department, and none of them have been tracking accidents related specifically to golf carts. However, all of them have agreed to begin working toward developing a monthly report of golf cart related incidents in The Villages. The POA has also commenced an effort to acquire past information from the Florida Highway Patrol which appears to be the only entity which even remotely tracks it by classification.
Below are letters from two residents who responded to our request last month to provide us with information about golf cart incidents that they were involved in or observed:
1) I was most interested to see your request for information about golf cart/auto accidents that have taken place in The Villages since my husband had such an accident 2 years ago (2/9/10 )at the Chatham gate while returning from a rained out golf game. He was 3/4 of the way across the road from the golf cart path behind the gatehouse, turning onto Legacy Lane when a car came thru the gate (he believes the gate was up due to the rain) and collided with his cart, hitting the rear right corner of the cart. It overturned and fell on top of him when he was ejected . I was not present but was told it took 3 men to help upend the cart and call 911. My husband suffered a fractured pelvis and head injuries which caused auditory hallucinations during his stay in The Villages hospital and subsequently while he was in rehab for 5 weeks and for several months afterward.. The person driving admitted that due to the crossing building and a large lilac bush behind it, he could not see the golf cart which was already underway coming across the road. He admitted to his insurance company that his vision was obstructed. We were told that the next day all crossing gate guards received a letter from management that the gates (at which you have to come to a stop) are NOT to be left up, even in bad weather. The large lilac bush has since been removed and low shrubs have been planted in its place. However, The Villages disclaims any culpability and no news of this accident ever appeared in print. We have been told by a person that used to work at that gate that it was not the only accident that took place at that site but no one ever hears about them.
We hope this helps "the cause"......Arnold & Elinor Levitt
2) I strongly concur with your views regarding the deliberate omissions of the Daily Sun regarding golf cart accidents in The Villages. With your request at heart, I will offer you details of my personal accident involving my golf cart the night of January 20, 2012:
At approximately 11:30 PM while returning home from employment and traveling west on Avenida Central at the intersection with Hickory Head Hammock, a pickup truck failed to heed the stop sign at Alonzo Drive, drove across Avenida Central and struck my golf cart at nearly a direct broadside angle. The golf cart was spun around and came to rest on its side and during this action I was ejectedfrom the golf cart onto the pavement of Hickory Head Hammock. The offending vehicle fled the scene and was apprehended soon after. The driver was arrested for DUI and other offenses. I was transported to Villages Regional Hospital for evaluation and treatment. Fortunately, my injuries were minor and I am very lucky to still be among the living. I believe that a matter of inches and impact angle made all the difference. My golf cart was a total loss and fortunately insured for this type of damage. Another stroke of "luck" was that this accident occurred within the limits of Lady Lake, which resulted in their municipal police department's ability to investigate motor vehicle accidents without having to rely on the Florida Highway Patrol, which is the case in Sumter County (Also Lake and Marion). To my knowledge, my accident details never appeared in The Daily Sun. In addition, I have come upon golf cart accidents with injuries prior to emergency response arrivals and did not see any information published in the Daily Sun.
Daniel J. Leahy
July. 2012 Bulletin
GOLF CART TRAVEL ON ROADWAYS AND REC TRAILS IN THE VILLAGES
ARE YOU SAFER IN A SEAT BELT?
In 1997, aware that golf carts increasingly were migrating from golf courses onto city streets, the National Highway Transportation Safety Administration created a new category called Low Speed Vehicle to regulate safety. The vehicles are capable of reaching 20 to 25 mph, and include what the safety administration calls personal neighborhood vehicles, neighborhood electric vehicles and golf cars. All are required to have seat belts and other safety devices. However, golf carts that go slower than 20 mph -- which are far less expensive and the kind most often used on streets in The Villages -- are not regulated, unless state or local governments set rules. Golf cars (when used on golf courses) are typically not equipped with seatbelts because of their need to allow passengers to enter and exit the vehicle frequently with ease. Therefore, the ANSI (American National Standards Institute) golf car safety standard, Z130.1, does not require seatbelts for golf cars. As a result, it became necessary to equip golf cars with passive restraints to try and protect unbelted passengers from ejection. In place of seatbelts, golf car standards require readily accessible handholds and body restraints that help prevent the occupants from sliding to the outside of the vehicle.

In a 1998 National Highway Traffic Safety Administration report, it stated that, discussions with various manufacturers and vendorsproduced an essentially unanimous viewpoint on the subject of safety restraints on a golf cart. They viewed them as a potentially dangerous accessory and a definite legal/litigation liability for the low speeds and uneven terrain that is a golf cart's typical OPERATING ENVIRONMENT. Their perception was that it is generally preferable to step from or be thrown from a golf cart that is starting to roll over than to be strapped to the vehicle. The sculpted or hilly terrain of many golf courses, results in a fairly high propensity for tipping and rolling, which can occur at very low speeds. This hazard is aggravated at golf courses that incorporate hilly terrain with steep, narrow golf cart paths and sharp turns. (See picture below.)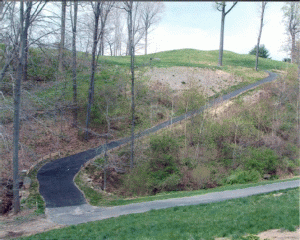 However, a review of golf cart crashes in The Villages confirms safety experts recent statements which indicate rollovers are most common on hilly golf courses, not on streets, and most of those involve a cart turning on its side, not upside down. See picture below.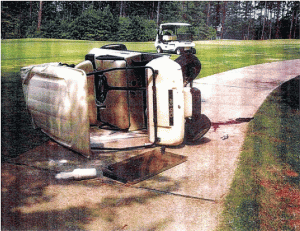 One common scenario for a passenger ejection accident occurs when a cart, traveling faster than 11 mph is turned sharply to the left. During a sharp left turn, centrifugal acceleration forces tend to force the passenger to his/her right, which can lead to ejection. (Many of these in the Villages.) Sharp turns are less likely to lead to a driver ejection because the driver has the steering wheel to hold onto and can always anticipate when he/she is about to initiate a turn.

Other common scenarios for golf cart ejections of both the operator and any passenger are when an occupied golf cart collides with a stationary object; collides with another golf cart, automobile or truck; and when an inattentive driver hits the curb and flips the cart. If you have been reading the POA Bulletin, you should be well aware of the many golf cart crashes that involve ejections that are occurring on our Villages roadways and the serious injuries that have resulted. Would a seat belt have made a difference? You be the judge. Note, however, that we have not been able to identify any reported crashes in The Villages which have involved a rollover in which the use of a seatbelt would most likely have been a liability.

We asked Capt. Lazenby, Director of The Villages Public Safety Department if he was aware of any rollover golf cart crashes on our roadways. He replied that he had gone through the records for the past 15 months for us and could not find any golf cart rollovers - certainly none where the cart wound up on its roof. He further advised that, " …generally, because of the construction of the cart, it won't sustain a roll-over. The superstructure that holds the roof of the cart will bend too easily and won't allow the cart to roll up on its roof. In many cases, we find carts that are on their side and the roof superstructure is severely bent; obviously the cart was headed for a roll-over and the roof support prevented it from going the rest of the way. In a number of these cases, these are accidents where the driver (and/or passenger) has been ejected or dumped out of the cart. In some cases, the cart winds up on the victim. But, here again, in many cases we don't see this. Bystanders have frequently removed the cart from the victim."
Vehicle Definitions & Requirements for road travel in The Villages
A golf cart is defined as a motor vehicle that is designed for operation on a golf course or for sporting or recreation and is not capable of exceeding 20 mph.
A LSV is defined as a four-wheel electric vehicle whose top speed is greater than 20 mph, but less than 25 mph.
Golf carts may operate on Villages streets where the speed limit is 30 mph or less.
LSV may operate on streets where the posted limit is 35 mph or less.
The operator of a golf cart does not have to be a licensed driver, the driver must be over 14years of age. The operator of an LSVmust be a licensed driver.
NOTE THERE IS ONLY A FIVE (5) MPH DIFFERENCE ON SPEED CAPABILITY AND SPEED LIMITS THEY CAN BE USED WITH. YET, THERE ARE SPECIFIC SAFETY REQUIREMENTS, IN PARTICULAR, SEAT BELTS, THE USE OF WHICH ARE REQUIRED FOR OPERATORS AND PASSENGERS OF LSV'S.
P.S. We recently attended the VHA Golf Car/Cart Safety class and were disappointed to see that:
a) They did not at least address the fact that there have been no golf cart rollovers in the Villages, (The film they showed prior to the open discussion advised that using a seat belt was more likely to result in serious injury or death in rollovers because it would prevent the occupant from jumping out of the cart and were not recommended by golf car manufacturers.)
b) They did not advise class participants that on streets and trails in The Villages (vs. golf courses) there have been a significant number of serious injuries and fatalities in accidents where the occupant(s) in the golf cart were ejected onto the pavement, and
c) Needless to say, they did not suggest that residents might want to at least consider installing seat belts in their golf carts.
7/12/Bulletin
Letter - seat belt installers
It would be wonderful if you could have someone research the topic and print it in the Bulletin. It would be a great service to the residents.
Thank you very much.
Joan McGinnes
Editor's Note: The Villages Phone Directory has some 25+ business listings, with another 15+ listed, on a daily basis, in the "SERVICE DIRECTORY" section of the Daily Sun Directory offering Golf Car Services. Most all of them, with the exception of a few who are most likely a manufacturer's representative, will install seat belts.
There are two main types of seat belts - those that are 'RETRACTABLE' and those that lay across the seat which are referred to as 'LOOP seat belts'. There are major differences between the two. Most all of the advertised service companies will install the 'loop' seat belts, as they are less costly to purchase and/or to install. If 'retractable' belts are desired, please call your preferred service provider for cost information. All of the service providers claim to have both in stock. The average cost for the loop belts are $20.00 to $30.00 per installed pair. Please be aware that some of the service providers will require pick-up/delivery of your cart, while others will complete the work on site or at your home. The most cost effective scenario will be to drive your cart to a provider that is golf cart accessible on the Villages property where you can call to make an appointment to have them install the belts while you wait.
We do not recommend it, but if you want to install the belts yourself, it can be done and there are over 200 sites online that you can search with the key words "seat belt accessories". You can find 'retractable' ones for under $30.00 each and 'loop' ones for under $15.00 for the pair. In talking with a few of these online companies the installation kits come complete with instructions and various installation options. We were told that it would require 45-60 minutes to install a pair of belts. In some installations drilling into the frame would be required for stability. Do your research first, as your cart may require a special installation process. You can go to your manufactures web site and search for seat belts for your specific make/model.