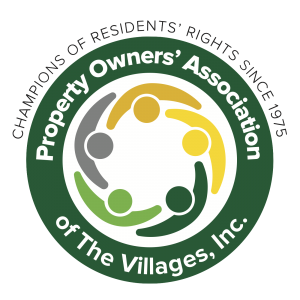 Membership means more. Be a part of the only organization in The Villages that has been the champion of residents' rights since 1975.
Benefits of Membership:
DISCOUNT PARTNERS…use your POA Member ID card to receive special Member Only discounts at many locations (restaurants, etc.)
Access to FREE POA shredding events (limited number of members per event)
Receive EMAIL ALERTS on key events and/or issues in The Villages that are relevant to you
Access to other POA-sponsored or co-sponsored events
Ability to participate in potential homeowner-related issues, discussions, and resolutions
Provide resources necessary for the POA to champion the rights of the residents and keep members informed on the issues and pertinent Villages information via email and The POA Bulletin
Access to research and analysis of topics and issues conducted by the POA.
Access the archive of POA General Meeting Videos, including presentations that impact the Residents.
Access to membership meeting minutes
Please become a member and help your POA continue to provide the monthly POA Bulletin and help the POA reach its 50th anniversary in 2025.