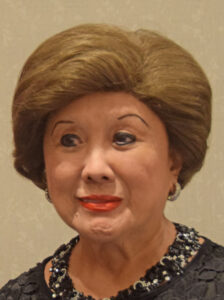 A brand resident of the Village of Fenney, originally from Cebu, Philippines, and a resident of Northern Virginia before moving to The Villages in 2016, Theresita "Tita" Dumagsa is a Dietitian by education. She was Valedictorian of her high school class and is a graduate of the University of Santo Tomas (UST) in Manila, Philippines, Cum Laude. Shy of a thesis, Tita completed her Masters's graduate studies in Food Services Administration at the Rutgers State University of NJ. Her professional career was as a Food Service Director Chief Dietitian and a Nutrition College Professor and Training Dietitian in various hospitals and nursing homes in New Jersey and Virginia. Tita was the Editor-in-Chief of her high school and college papers. After retiring from Dietetics, Tita worked with United Airlines as a Human Resources Representative. She currently serves as the President of the United Airlines Retiree Group in The Villages, aka the Citrus Groupers.
In 2017, Tita received the prestigious Most Influential Woman in the World award from the Filipina Women's Network (Global FWN 100) in the "Behind the Scenes Leader" category, which recognizes 100 women of Philippine ancestry in the world who are changing the face of leadership in the global workplace. They have each reached status for outstanding work in their respective fields and are recognized for their achievements and contributions to society, mentorship, and legacy, and they are a driving force behind the success of a social cause or life issue, a community organization's project, or initiative.
Her life's work has been to advocate for those who need a voice to help lift people from poverty in the Philippines through grant proposals she's written that provided for education, livelihood, and infrastructure projects, particularly when the deadly and devastating super typhoon Haiyan that killed over 10,000 people hit the Philippines in 2013. Tita is a member of the Fil-AM Club and the Filipino Karaoke Club of The Villages.
Tita sees her involvement with the POA as a means of "giving back" to the community for the blessings she has received since moving to The Villages. It also fulfills her personal philosophy of "In service to others above self for the greater good," which she believes the POA is all about.